Currently the Home of Hope Orphanages – China, has three locations. One location is in Xuzhou, JiangSu Province, the other two, GongYi Home of Hope and PingYu Home of Hope are located in Henan Province. We are presently looking at opening the fourth  Home of Hope in Upper Mongolia.  We have been invited by the government there.
The GongYi Home of Hope (our first location) was opened in February of 2000.
The Xuzhou Home of Hope (our second location) was opened in October of 2005, after having permits and certifications issued by the Chinese government in July of 2005.
The PingYu Home of Hope (our third location) began functioning  March 1, 2010.  After our first major child search we selected fifteen children for the initial group to come into the PingYu Home of Hope. Once these children are adjusted and everything has settled down to normal 'day to day' operations, we will be bringing in additional children.
Each child brought into the Home of Hope Organization, undergoes a physical exam prior to being taken in.  This is a requirement established by our agreements with the Chinese government.
All locations are fully functional orphanages providing perpetual care, love, understanding and training to allow each child to grow into a productive member of the Chinese society.
Please view the map below the get a general idea of where we are located. The locations are indicated by a "House" logo at each location. For a larger view you can click on the map itself.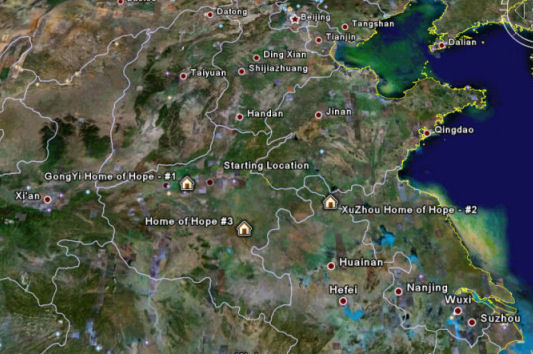 Posted: April 23rd, 2008 under Uncategorized.
Comments: none